we're celebrating the launch of wool& with an expenses-paid trip for two to Santa Fe, New Mexico. to enter, sign up for our email newsletter below and follow us on Instagram.
pst…sharing this page with your friends and getting them to enter might just help your odds of going to Santa Fe
check-in to your airbnb
we found the perfect spot for a three night stay. your "adobe casita" is a convenient 10 minute walk from downtown Santa Fe's historic plaza. you'll be surrounded by Southwestern charm while enjoying a private courtyard complete with a burbling fountain. The host, Lecie, is super excited to partner with wool& for this dream trip.
get acquainted with Santa Fe cuisine and nightlife
start the night off with the Famous Plaza Cafe for some southwestern comfort food, then stop in at the Secreto Lounge for some of the best drinks in town. their bartenders use all fresh ingredients, a range of 27 flavors of bitters, and house-made syrups.
breakfast at Pasqaual's
Pasqual's is devoted to food quality and currently offers organic and naturally raised beef, pork, eggs, dairy, produce, sugars, flours, maple syrup, flavorings, and spices. the cafe is named after the folk saint of Mexican and New Mexican kitchens and cooks, San Pasqual. the historic pueblo-style adobe is located in the heart of downtown Santa Fe.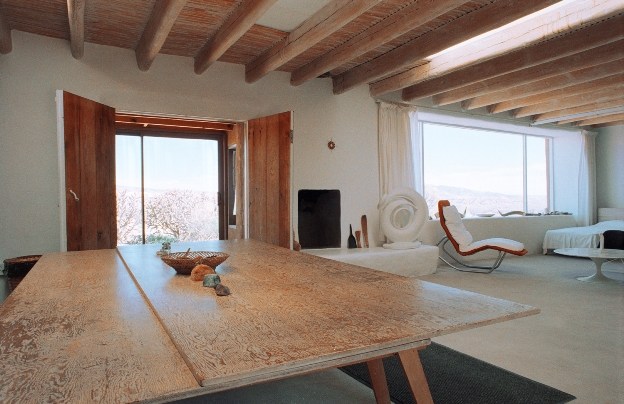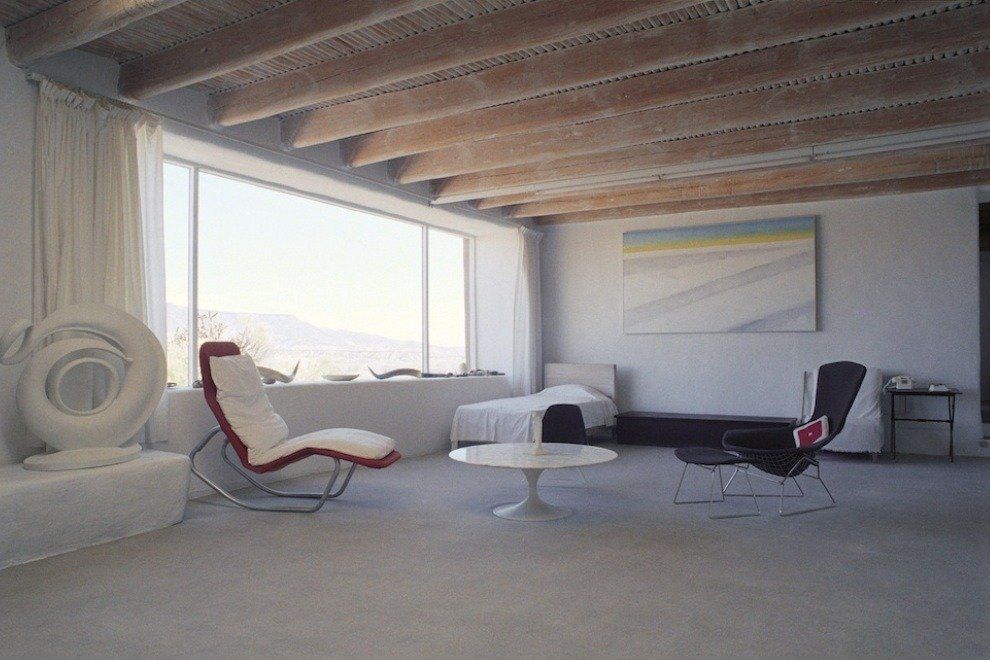 tour Georgia O'Keeffe's historic adobe home and studio
the Abiquiu Home and Studio tour offers a special look into the life of one of America's greatest artists. throughout the property one can see and feel the time and love O'Keeffe dedicated to this special place.
the Abiquiu home and studio is a 5,000 square foot Spanish Colonial-era compound that was in complete ruins when Miss O'Keeffe found it. she bought the property in 1945 and for the next four years supervised its restoration. the house inspired more than two dozen paintings.
fine dining at Joseph's
Joseph's is designed to be a platform for Chef Wrede's unique and uncompromising vision on traditional and contemporary cuisine, both regional and international. regarding the restaurant as a process much like theater, Wrede envisions the experience of dining in his restaurant as an interactive play between the pub and the public, with his sights aimed at rivaling high art.
the dining experience begins the moment a person enters the restaurant, the interior of which is imbued with custom painted walls, a collection of antique copper, frescos, and sculptures collected by Wrede's family.
daytrip to taos
long one of America's foremost, bona fide art colonies, Taos is also home to a world-class ski resort, a World Heritage Site (Taos Pueblo), one of the most photographed and iconic churches (St. Francisco de Asis), and a majestic landscape encompassing the Rocky Mountains and the Rio Grande Gorge. visitors are drawn to the clean air and mythical light of Taos, and will experience rich spiritual traditions, fine art, distinctive cuisine, a thriving music scene and of course, the raw, natural beauty of the landscape.
an afternoon at the spa
Ten Thousand Waves is dedicated to providing a Japanese sense of serenity and relaxation. inspired by the famous Japanese mountain hot spring resorts, Ten Thousand Waves' hot tubs and spa suites sits among beautiful southwest conifers. everything they do—from the gardens to the woodwork, from the therapies to the therapists—has been continuously and thoughtfully refined over the last 37 years.
dinner at the spa
enjoy a meal and the mountain lodge atmosphere at Ten Thousand Waves' restaurant, Izanami. they serve small plates in typical Japanese izakaya fashion. food is designed for sharing and normally ordered throughout the course of the meal.
since they're a thousand miles from the ocean, Izanami has chosen to serve fish only on Tuesdays and Wednesdays. many items are gluten free and there are generally up to twenty vegetarian items on the menu.
to enter to win the trip for two to Santa Fe, sign up for our email newsletter below and follow us on Instagram.