five days in Lima
wool& asked the writer Jancee Dunn to bring nothing but a merino swing dress on a journey of her choosing. on a recent trip to Lima, Peru, with her husband (the writer Tom Vanderbilt) and nine-year-old daughter, Sylvie, she packed little more than two wool& dresses—one black, one burgundy—in her suitcase for a five-day stay in the busy South American metropolis.
Dunn wore the dresses the entire time, from the moment she boarded the plane for the nearly eight-hour trip from New York City to Lima, to the last frantic moments as she raced down a Brooklyn sidewalk to get Sylvie back in school before the Tuesday morning bell (after an overnight return flight). we wanted to learn how the dress would perform over the course of a busy family trip that took place in a variety of settings, across different activities, and in varying weather conditions. once she had settled back at home, we spoke to Jancee about her adventures in minimalist fashion.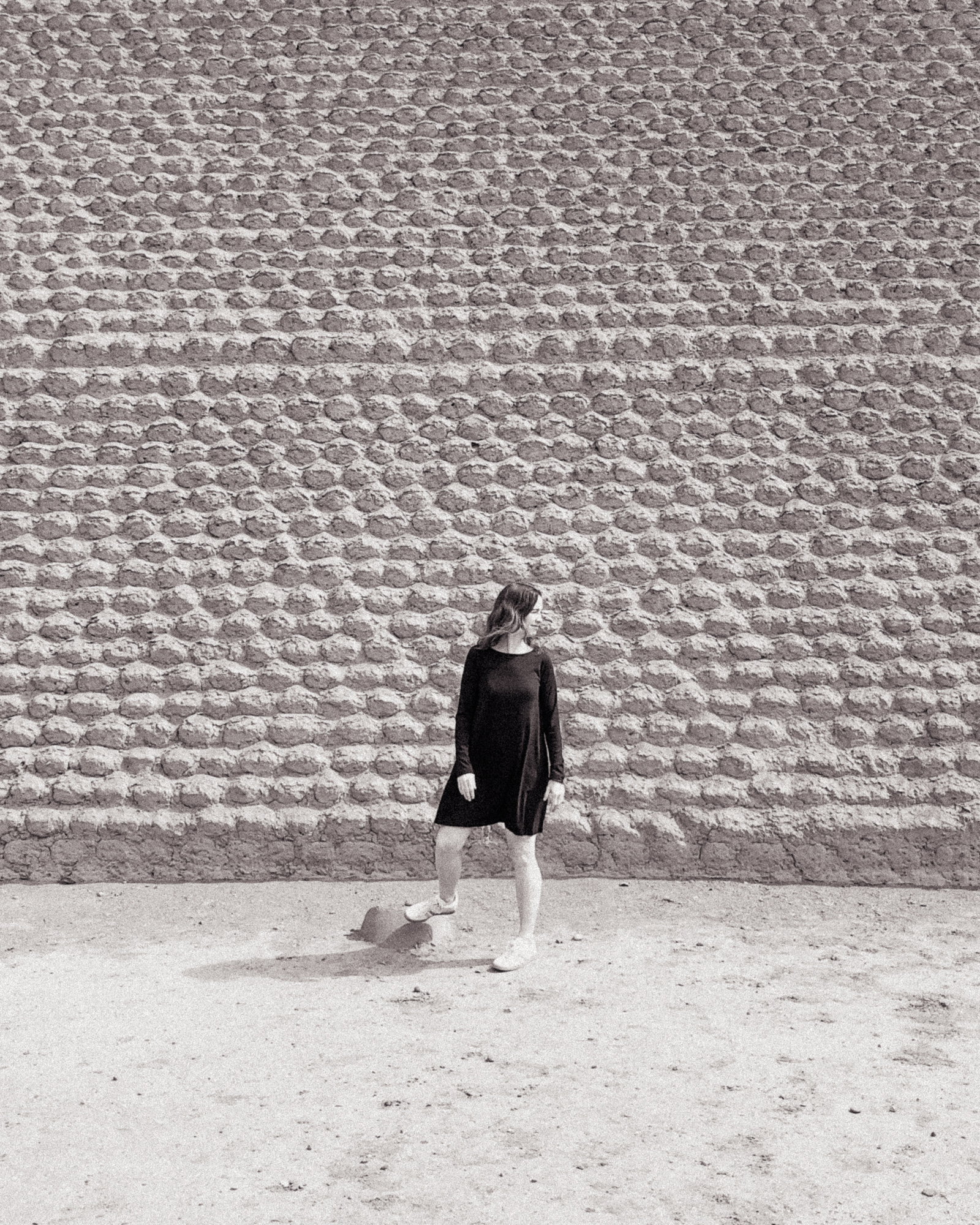 i'm never happier than when open my eyes in the morning on a trip, and realize that i'm in a different part of the world.
first, can you tell us a bit about yourself?
i started my writing career as a rock chick—i was a reporter at Rolling Stone for over a decade, and an MTV2 veejay for five years. i have written six books, including Cyndi Lauper's autobiography, and a children's book. my seventh and latest book is a memoir from Karamo Brown of Queer Eye—and yes, he's as amazing in person as he is on the show. i also write for publications such as Vogue, Travel & Leisure, Goop, and the New York Times.
my favorite thing to do is travel. and eat. and eat while traveling. i'm never happier than when open my eyes in the morning on a trip, feeling disoriented before i realize that i'm in a different part of the world, and then plan the day.
why did you pick Lima?
it's one of the world's great food cities, so i couldn't wait to eat my way through the ceviche, the pollo a la brasa, the nikkei cuisine created by Japanese immigrants to Peru, the famous pisco—which some people insist is the next mezcal. how could you not love a place that has 3000 varieties of potatoes? i love the fascinating cultural mix of old and new. there really is something for everyone: colorful Colonial architecture, amazing galleries and museums, killer in-town surfing, bustling street markets, pre-Columbian ruins smack in the middle of the city. also, no jet lag!
i know some people have used Lima as a stopover on their way to Macchu Piccu, but there is so much to do in town. why leave?
as a sometimes travel writer, you live out of your suitcase a lot. what do you normally bring to wear on assignments?
we often bring our kid with us, so i tend to pack light, because most of my luggage is overtaken by kid gear, including a variety of stuffed animals. that said, i realized recently that i've sort of needed to up my game with my travel wear. i normally pack jeans, a couple of shirts, walkable sandals, and cute sneakers—which is practical, but can look a little schlumpy. and i tend to like natural fibers that are easy to spot-clean, so that i don't have to pay the shamelessly steep fees that hotels charge for dry-cleaning.
i tend to like natural fibers that are easy to spot-clean, so that i don't have to pay the shamelessly steep fees that hotels charge for dry-cleaning.
how does the dress compare with your usual wardrobe?
i have to say that i loved how versatile the dress was. it was swingy, so i could move in it when i was walking around on the street, but if we went to a nice restaurant or gallery, it looked crisp and chic and polished. we went to a fantastic new restaurant called Kjolle, helmed by Pia León, Latin America's top female chef. she cooked for a decade at the famous restaurant Central, alongside her husband, Virgilio Martinez. it was the most beautiful, airy, plant-filled space — everything is 100 percent Peruvian, from the food to the building materials — and i felt completely at home in my dress.
it was so easy to throw on some accessories to change it up—different sandals, or a scarf, or hoop earrings. it can basically replace everything except gym clothes.
it functioned nicely when i was active, too. one afternoon, we went to Huaca Huallamarca, a towering pre-Columbian pyramid made of adobe bricks situated right in the middle of Lima's beautiful San Isidro neighborhood. i scrambled around there with my daughter—you can really move in that dress, and it's not too short.
i even wore it to the beach, while my husband and daughter surfed. i would have surfed myself, but someone had to take the pictures and hold the towels!
what sorts of things did you do in Lima, and how did the dress function?
i'm a New Yorker, so i love to walk—and it's my favorite thing to do when i'm traveling, too. my daughter's Garmin watch told us we were taking like 20,000 steps a day. i like to leave my hotel in the morning, run around all day, and return at night, happily worn out.
we went to markets, galleries, restaurants, and parks.
the dress was also perfect for the white, vaporous atmosphere that appears in the winter and spring in Lima—what locals call la garua. it's this sort of grey, enveloping mist that takes over the Peruvian coast. it's caused by warm winds interacting with the cold water of the sea. because the dress is made of lightweight wool: it kept me warm when the mist got too chilly, and cool when it was warm.
one of the best things is that when i spilled some street food on it—this happens a lot, i'm afraid—i was able to quickly wipe it away. my husband Tom wears a lot of the Wool&Prince shirts, and says that they don't smell, even when you wear them for many, many days in a row. i would tell him if they did. my dresses stayed non-fragrant as well, except when i spilled ceviche on the black one. i tend to get too excited when i eat, and sort of fling stuff around.
did the dress give you any ideas about packing for future trips?
yes—i'm packing light from here on in. all i need are a few dresses and some accessories, which don't take up very much real estate in your suitcase. i can't count the number of times i've returned from a trip and unpacked unworn clothes. why did i haul these across the hemisphere, when i only wanted the one thing? sometimes, we need to do a "Kondo" on our luggage. i'm not checking a bag next time.
after our visit, here's our recommended to do/eat/stay list while in Lima:
to do:
Museo Pedro De Osma
situated in the hip neighborhood of Barranco, this gorgeous museum, housed in a former Colonial mansion, has Peruvian pieces from the fifth to the eighteenth century.
Pukana Surf School
there are a number of options at Makaha Beach, but we were partial to Pukana. Rafael picked us up and dropped us off every day, and Sylvie enjoyed walking her instructor's Cocker Spaniel, Pulga, every day.
El Mallacon
a two-mile network of cliffside oceanfront paths that stretches through the pretty neighborhood of Miraflores. watch the hang-gliders soar over the city (and hitch a ride if you choose).
Larco Museum
a stunning collection of Peru's rich pre-Columbian culture, founded by a pre-eminent archaeologist. don't miss the wonderful garden café.
El Mercado Surquillo
this bustling produce and food market will give you a glimpse of Peru's staggering breadth of culinary options—and you can get some fresh ceviche on the spot.
Museo MATE
also in Barranco, a beautiful space featuring works by legendary Peruvian fashion photographer Mario Testino. you will want every single thing in the small but beautifully curated gift shop—local jewelry, hats, throws.
to eat:
Kjolle
in the same lovely complex as Central, innovative chef Pia León draws upon 100 percent local ingredients, from obscure root vegetables to Amazonian citrus fruits to aromatic indigenous herbs.
Al Toke Pez
named a top huarique (cheap and cheerful local eating spot) by many publications, it's helmed by a dynamo of a young chef who is as much fun to watch as it is to eat his creations. the menu changes by the day, depending on what he can get at the market.
El Pan De La Chola
star baker Jonathan Day crafts sublime wholegrain bread, tarts, croissants and some of the best sandwiches we've had anywhere. the locally-sourced coffee is delightful. he opened La Pizza De La Chola down the street—also worth a visit for artisanal pizzas with a deliciously charred crust.
La Picanteria
a refined take on a Peruvian staple, serving transcendently fresh ceviches, washed down with craft brews and house-made chicha. diners pick a fish, then tell the chefs the various ways they'd like it served.
to stay:
Country Club Lima
nestled in the upscale neighborhood of San Isidro, this classic hotel oozes history (it opened in the 1920s, and has hosted everyone from Mick Jagger to Ernest Hemingway.) the clubby, wood-paneled Bar Inglés is said to have the best Pisco Sours in town.
Hotel B
in a neighborhood visually rich with Belle Epoque houses, this beautifully restored, art-filled mansion has twenty stylish, art-filled rooms, a justly famous breakfast spread with acres of fresh juices, and afternoon tea.